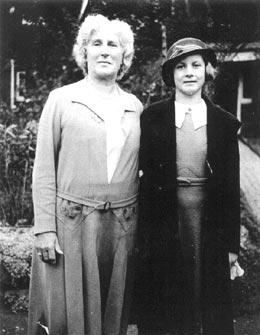 Mary Hare and Jean MacWilliams at Dene Hollow, March 1933


Personal reminiscences of Miss Mary Hare at Dene Hollow 1933-1937
Written by Jean Saks (nee MacWilliams)



It was a privilege to know Jean Marie Saks (nee MacWilliams) who was taught by Mary Hare from 1933 to 1937. What follows are her memories of both her time at Dene Hollow and Miss Mary Hare. Jean's father was involved in the then fledgling movie industry in Hollywood and went to England to help start the movie industry there. Later she married Andrew Saks, who in 1964 together with a few others founded the Oral Deaf Adults Section (ODAS) of the Alexander Graham Bell Association for the Deaf (AGBell); ODAS has now evolved into the Deaf and Hard of Hearing Section (DHHS) which is one of the three main pillars of AGBell. More significantly, Andrew Saks together with Dr. Jim Marsters, and Robert Weitbrecht developed the TTY/TDD (or the Minicom as it is known in the United Kingdom) in the early 60s. Their daughter, Andrea, is very active in promoting telecommunications issues facing the hearing impaired community in United Kingdom.

This article was orginally part of the first ever website dedicated to Mary Hare Grammar School way back in April 1996 marking the 50th anniversary of the foundation of the school.

Jean passed away at the age of 87 on February 15, 2008. She was a remarkable lady and was proud of Mary Hare Grammar School.
[
Click on thumbnails below to view large photos
]

[This article was transcribed by Dr. Franck, from a tape-recorded interview with Jean Saks]

I was twelve years old when I learned from my parents that I was going to move with them and my sister to England. My father had been hired to train the British in operating cameras to make movies. He was one of the pioneer cameramen with D.W. Griffith in the early 20's. It was a very exciting moment in my life. Although I had already received innovative training in listening, lipreading and speech skills, I was now going to Europe where I was to learn many new things as a young hearing impaired child. Then I went on to the boarding school in great anticipation of meeting Miss Mary Hare who was well-known, and the greatest, not only for teaching dictation of speech but also lipreading.


Front entrance of Dene Hollow
on London Rd, Burgess Hill, Sussex. 193Os.
The first impression I got of Dene Hollow was the house which looked more like a cozy country mansion, not at all like the public cement buildings I was familiar with in America. My father rang the doorbell and a deaf old lady dressed in a light blue maid's uniform ushered us into the hall. It was a dark hall. The walls of mahogany wood all polished up with a new fireplace. We were led into a bright, pale blue and white drawing room where loomed a tall, white haired woman who looked down to me and said "I know this girl". I was awestruck by the huge powerfully built woman with bushy white hair and sky blue eyes. She soon broke into a huge smile, gleaming from ear to ear. Shortly after exchanging greetings with my parents, Miss Hare spoke to me something like, "How are you doing? How do you like England? Where do you come from?". She noticed right away my imperfect speech as I was missing all those s and sh sounds. She put her hands on my chin which helped to close my mouth. And she showed her huge teeth like a gleaming cheshire cat. She made me say s s s and sh sh sh, th th th and so on. I felt as if I had been shaken from head to foot. My parents looked at me surprised, pleased with the results. Miss Hare knew exactly what to do to improve my speech. I would produce no more of those twangy sounds or nasal vowels and my speech began to explode with consonant sounds.


Jean MacWilliams
in the green & white Dene Hollow uniform
Miss Hare then led us from the dark hall into the bright cheery polished pine wood classroom with sunny windows. All the students stood up and Miss Hare introduced us to some students who greeted us warmly. They made us feel at home. I was delighted at the thought of sharing my new life with these students. In my first year, in the spring of 1933, I was fitted with a uniform and followed the rigid rules of the do's and dont's of our daily routine. Miss Hare insisted on an all round education. Everyday we'd start with breathing exercises and we'd say morning prayers. We would then have various classes with the staff and Miss Hare would come in for an hour of speech lessons. She would ask the class various questions pertaining to a particular subject. She was very strict and made us think hard. Before giving an answer, at that time we would be forced to open our hands for a smack from her long stick. I remember she would make us bend our head to think. Somehow if we did not come up with the right answer, we would sometimes end up with bread and water with no proper meal of the day. Today we would call this abusive treatment which is no longer practised in schools. However, in spite of this treatment, alumni and former students respected Miss Hare. She inspired us and tried to make us as normal as possible. Not only did she teach us to speak and lipread well, but also to be able to think for ourselves. She provided us with a good life encouraging us to take part in sporting activities. We won competitions which enhanced our self-esteem.


Dene Hollow grounds
2.5 acres including two tennis courts,
pitches for lacrosse and football.
My father and his movie crew donated hearing aid equipment to Dene Hollow which helped us with our speech improvement. And also, we received honors for several folk dancing competitions. We even danced in the Royal Albert Hall in London and also Brighton Pavilion. We would compete with hearing peers from other school. We played tennis and I remember we did have swimming and diving competitions. We also won lots of prizes.


The Lacrosse team
School is on the right in the background;
swimming pool on the left behind the team.
Jean took this photo with her "Brownie" camera.


Jean posing at the newly built swimming pool
which was funded by Gaumont British Studios
(where her father worked
as director of cinematography).


The swimming pool
with Gaby Saunders (the little girl in the background),
Chloe Beaumont and Billy Hinks.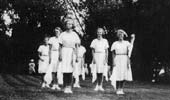 +names
Morris dancing girls on tennis courts
Miss Hare also let us sing nursery rhymes everyday. That was how we learned to speak well, aritculation and all that. She was very strict that we were not allowed to use our hands, sort of mimic acting - anything like that. We had to keep our hands down all the time, listen properly as if it was the military.

We didn't forget the wonderful meals provided by the cook. We remembered eating our favorite bread and butter pudding. That was most unusual. We would have gooseberry jam, red and black currant jam and we would pick the berries off the trees and make jelly. That was very good food. Oh, yes! When we dined in the dining hall, Miss Hare always had her own chinaware. If I could remember it, it was just white chinaware with a bit of green - almost like Irish shamrock leaves - very pretty. She used them for her own use. She was indeed Irish, I think. She was really dynamite person. A strong character. I wish the whole world would have teachers like her. Yes - she was good for all of us. God bless Miss Mary Hare. We were very proud of Miss Hare and Dene Hollow for the outstanding education for us all.


+names
Miss Mary Hare and her senior class of 1936
The ultimate memory of Miss Mary Hare was when she accepted my parents' invitation to spend one weekend at our house, "Ye Olde Shooting Box". It was my last school term between 1936-1937 before returning to the USA at the completion of my father's five-year contract. My parents wanted to show Miss Mary Hare their deepest appreciation for all she had done for me on the diction of my speech. My parents took Miss Hare and myself to a famous London cabaret club show. That was a night to remember. She loved it. She stood tall with straight back just like Queen Mary.


Miss Mary Hare dressed in "Lady Gainsborough" costume
in celebration of her 70th birthday, 03 November 1935.
The last words of advice Miss Hare gave me when riding in the train with me on the way to London was: "Always remember who you are, never show your feelings of being incapable. Be confident and hold your head up and remember every word I taught you to speak with syllables and consonants and you must learn to listen with But me no buts". I think those words have stuck in my memory since and it has paid off very well!


Jean Saks on vacation in Normandy in 1991
with her daughter Andrea, who lives in England and is an active campaigner on telecomunications issues including TypeTalk facing the hearing impaired community in England.
Website design © 2006 Kreb Dragonrider
Article © Jean Saks
Photos © Glen MacWilliams